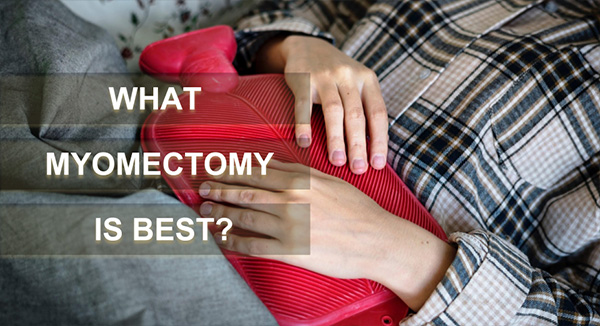 WHAT IS A MYOMECTOMY?
Myomectomy or Uterine Myomectomy is sometimes named a Fibroidectomy. The procedure refers to the surgical removal of uterine leiomyomas, also known as Fibroids.
In contrast to a Hysterectomy, the uterus remains preserved and the woman retains her reproductive potential.
WHAT CONDITIONS DOES A MYOMECTOMY HELP?
A myomectomy is an operation performed to remove benign tumours called Fibroids from the muscular wall of the uterus.
WHY IS A MYOMECTOMY REQUIRED?
Patients have many options in the management of Uterine Fibroids, including
observation,
medical therapy (such a GnRH agonists),
hysterectomy,
uterine artery embolization, and
high-intensity focused ultrasound ablation.
Despite these many options, the surgical approach of selected Fibroid removal remains an important choice
Reasons to choose a myomectomy instead of a hysterectomy for Uterine Fibroids include:
You plan to bear children.
Your doctor suspects uterine fibroids might be interfering with your fertility.
You want or need to preserve your uterus.
WHO IS A MYOMECTOMY SUITABLE FOR?
The presence of a Fibroid does not mean that it needs to be removed. Removal is necessary when the Fibroid causes
pain or pressure,
abnormal bleeding, or
interferes with reproduction.
The Fibroids needed to be removed are typically large in size, or growing at certain locations such as bulging into the endometrial cavity causing significant cavity distortion.
WHAT TYPE OF MYOMECTOMY DO YOU NEED
There are several types of Myomectomy, these include:
Open Multiple Myomectomy - also called Myomectomy is the removal of 4 or more Fibroids followed by reconstruction of the uterus. This is performed as an open (laparotomy) procedure. The open approach is often preferred for larger lesions.
Laparoscopic Myomectomy - also called Myosure is the removal of Fibroid in the muscle of the uterus via keyhole surgery.
Hysteroscopic Myomectomy - also called a Hysterscopy is the removal of Fibroids growing in the cavity of the uterus
WHEN TO SEE A DOCTOR
If you are experiencing any symptoms associated with Fibroids including heavy or prolonged menstrual bleeding, pelvic pressure or pain, and other symptoms or are concerned about any gyneacological problem that may require further investigation, we would advise that you see your general practitioner and possibly obtain a referral to see Dr Gailani.
Dr Gailani can offer specialised help, advice on a possible diagnosis, further investigations and suitable treatment. Contact his rooms at www.omargailani.com.au