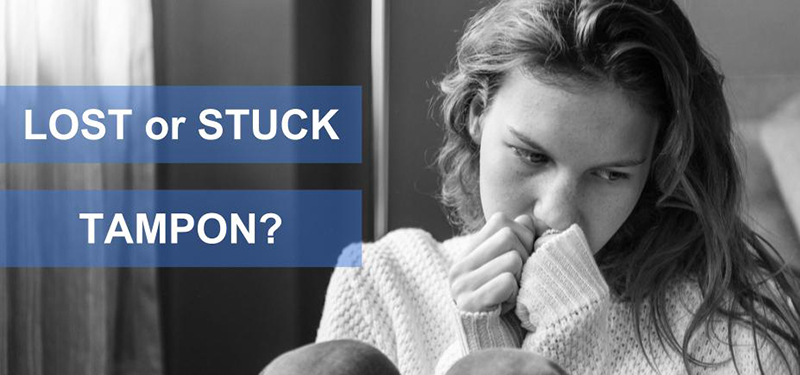 WHAT TO DO IF A TAMPON IS STUCK INSIDE YOU?
It can happen if you're not careful, it's a little scary, but it will come out.
Allowing a tampon to stay inside you for more than 8 hours is not advisable, as this can lead to infection or Toxic Shock Syndrome.
If you're prone to forgetting, set a reminder on your phone in order to prevent infections.
RETAINED TAMPONS
If you use tampons, a lost tampon can happen. The tampon may be lodged in quite deeply or not easily found. Tampons can be retained when:
the last tampon has not been removed when their previous period ended,
a new tampon is inserted, while another is still inside,
the tampon gets stuck because of movement or exercise, or
other reasons.
Sometimes your tampon maybe difficult to remove after an hour or so as dry tampons get stuck more easily, and after a little while longer your menstrual flow may help you remove it.
The vagina is a "closed space", the vaginal canal, where a tampon sits, is only about 6 to 12 centimetres long. So a tampon can not get completely lost inside you, your tampon is there.
INDICATIONS OF A RETAINED TAMPON
In most cases you can tell that you have a retained tampon. Typical indications are:
Foul odour from your vagina,
foul-smelling vaginal discharge,
brown, green, yellow, pink, or gray vaginal discharge,
itching inside your vagina,
rash or redness around your genitals,
uncomfortable or painful urination,
abdominal or pelvic pain, or
vomiting.
Most women notice the odour first and realise that a forgotten tampon is the cause. Others may notice unusual discharge.
HOW TO REMOVE A RETAINED TAMPON?
Once you've established that you have a tampon still there, then you need to remove it.
If you cannot simply pull the string to remove the tampon, or the string is inside and you feel comfortable exploring your own vagina, you can try to "gently sweep it out" on your own.
With clean hands, and maybe clipped nails, the steps can include: Relaxing your muscles and feeling for your cervix, then gently sweeping behind in a circular motion, or try to bear down with some gentle abdominal pressure to make it easier to reach your cervix.
You may feel changing positions like squatting can help
You should be able to dislodge the tampon pretty easily, but if you sense that you're not getting anywhere, or if you have symptoms of an infection (like odour, discharge, or burning), do not be embarrassed, your should see a doctor immediately.
WHAT NOT TO DO
We advise you should not do the following if removing your tampon at home:
Do not use water to irrigate your vagina as this could lead to an infection,
Do not use instruments if your fingers are not long enough. Objects like tweezers can cause tissue damage and infection,
Do not ask your partner for help unless they using sterile gloves.
WHEN TO SEE A DOCTOR
It is better to see a doctor and have them address your concerns early, than to risk infection. Retained tampons are generally easy to remove using a vaginal speculum, which allows your gynecologist to see the tampon and remove it.
If you are experiencing any symptoms above or are concerned about any gyneacological problem that may require further investigation, we would advise that you see your general practitioner and possibly obtain a referral to see Dr Gailani.
Dr Gailani can offer specialised help, advice on a possible diagnosis, further investigations and suitable treatment. Contact his rooms at www.omargailani.com.au