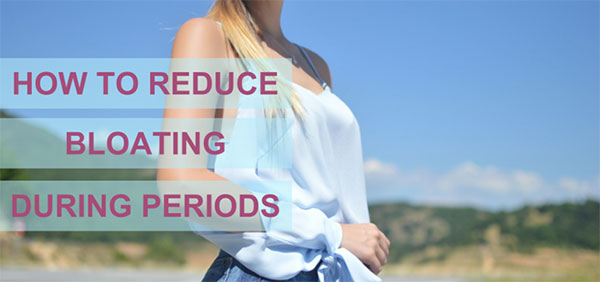 HOW TO REDUCE BLOATING DURING PERIODS
Many women experience bloating before and at the start of their period.
WHAT IS PERIOD BLOATING?
Period bloating is one of several premenstrual syndrome (PMS) symptoms that can occur 1-2 weeks before a woman's period. It may be accompanied by stomach cramp, backaches and other symptoms.
Women feel their abdomen is heavy and swollen just before and at the start of her period.
This can be uncomfortable and may negatively affect self-confidence as the bloating can feel like swelling and weight gain causing their stomach to stick out.
WHAT MAY CAUSE PERIOD BLOATING?
Bloating before and during a period may result from changes in levels of hormones such as progesterone and estrogen.
As a woman's period approaches, levels of the hormone progesterone fall. Reduced levels of progesterone cause the uterus to shed its lining, which is what causes menstrual bleeding.
As well as causing menstrual bleeding, research suggests that changes in progesterone and estrogen levels cause the body to retain more water and salt. The body's cells become swollen with water, causing the feeling of bloating.
Studies indicate that women retained most water and experienced the worst bloating on the first day of their period.
HOW YOU CAN REDUCE PERIOD BLOATING?
Fortunately, there are changes women can make that may reduce these symptoms. Below are some tips that may offer some relief, here are some:
DIET MODIFICATION
Avoid Salty Foods as the sodium they contain increases the body's water retention. Typically avoid processed foods and try to focus more on fresh ingredients. A maximum target 1,500 mg per day is advised.
Eat More Potassium-rich Foods as they can help reduce period bloating by decreasing sodium levels and increases urine production. This can reduce water retention and improve period bloating. Potassium rich foods include: spinach, sweet potato, bananas, avocados and tomatoes
Avoid Refined Carbohydrates such as white flour and processed sugars, as they can cause spikes in blood sugar levels. This increases the level of insulin in the blood, which causes the kidneys to retain more sodium. Increased sodium levels lead to more water retention.
NATURAL DIURETICS
Women who are looking to relieve period bloating may consider eating more natural diuretics to increase urine production to get rid of water, thus helping reduce water retention.
Many foods act as natural diuretics including: asparagus, pineapples, peaches, cucumber, leeks, ginger, garlic.
Diuretics are also available in pill form. A doctor may prescribe these if period bloating is more severe and other home treatments have not helped.
DRINK MORE WATER
In light of the two previous approaches, staying hydrated may seem counterintuitive, but drinking more water is often recommended for period bloating.
Some people believe it can help to improve water retention, by improving kidney function.
While there is no scientific evidence to support this, drinking more water improves hydration, which generally improves the way a person feels, do it maybe worth consideration.
EXERCISE REGULARLY
Studies repeatedly show regular exercise might help improve PMS symptoms. As period bloating is a PMS symptom, regular exercise may help to reduce it. A minimum of 2.5 hours of exercise a week is recommended
CONSIDER USING A BIRTH CONTROL PILL
The birth control pill may help improve period bloating, but the effect of the pill can vary from woman to woman, with some women reporting that the pill makes them feel more bloated.
It is best to discuss the birth control pill with a doctor and to try a few different types to see which one works best for managing PMS.
WHEN TO SEE A DOCTOR
For most women, period bloating is unpleasant but does not stop them from being able to get on with their day. However, if period bloating affects a woman's daily life, it is a good idea for her to speak to her doctor.
If bloating does not go away after a period, or there are other symptoms relating to your periods, they could be a sign of a more serious health condition and further investigation may be required.
We would advise that you see your general practitioner and possibly obtain a referral to see Dr Gailani
Dr Gailani can offer specialised help, advice on a possible diagnosis, further investigations and suitable treatment. Contact his rooms at http://www.omargailani.com.au/