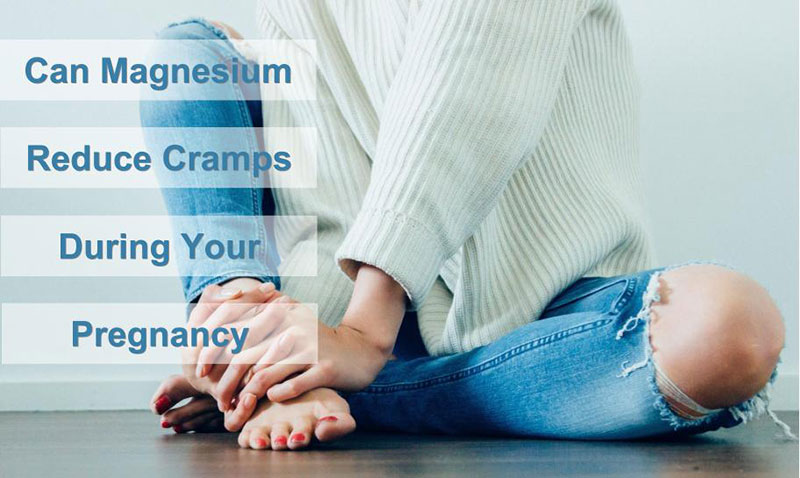 HOW TO AVOID LEG CRAMPS DURING PREGNANCY
Some simple processes that have been shown to reduce leg cramps during Pregnancy are:
Drink plenty of fluids throughout the day and evening
Daily soak in a warm bath with Epsom salts
Stretch your legs/calves before bed by squatting down to the floor (hold on for safety)
Wear compression stockings (tighter at the foot and looser near the knee)
Stay off the feet during the day as much as possible and
Massage the affected muscle and apply local heat
Seek to remedy any mineral imbalances in your body
WHAT IS MUSCLE CRAMP?
Cramps are often painful and sudden contractions of your muscles. The most common places for cramping during pregnancy are your calf and the inner thigh.
WHAT CAUSES CRAMPS DURING PREGNANCY?
It is thought that as your fetus grows, the extra demand for essential nutrients can diminish your normal levels. Evidence points to magnesium (Mg) deficiency as a key driver of muscle cramps.
In addition to the possibility of a magnesium deficiency another cause could be due to your muscle fatigue resulting from carrying extra weight in the later stages of pregnancy.
WHY DO YOUR MAGNESIUM LEVELS DROP DURING PREGNANCY?
As your baby grows the demands on your body increase. Also your metabolism changes and your kidney excretes more magnesium. As your pregnancy progresses your body may not obtain enough magnesium through diet, so your magnesium can become depleted and not match your needs
Dietary sources of magnesium include whole grain cereals, green leafy vegetables, legumes, soybeans, nuts, dried fruit, animal protein and seafood. Studies have shown that supplemental magnesium can have benefits.
CAN MAGNESIUM DEFICIENCY BE DIAGNOSED?
The symptoms of magnesium deficiency can be evident in calf cramps and muscle tension.
Magnesium is found mostly in other tissues such as your muscle, soft tissues and bones. A small amount is in your blood so using blood tests to detect your magnesium levels is difficult.
HOW DOES MAGNESIUM HELP REDUCE CRAMPS IN PREGNANCY?
Magnesium is one of the most common minerals in your body. It is essential to the function of hundreds of your enzymes and plays an important role in your metabolism, hormonal reactions and muscle movement.
As a deficiency of magnesium can affect a key part of your muscle relaxation process, by providing sufficient amounts of magnesium you will help your body regulate muscle contractions and avoid cramping
WHAT ARE THE SIDE EFFECTS OF MAGNESIUM SUPPLEMENTS?
Magnesium is well tolerated and safe in most cases. Some side effects may include diarrhea and nausea, which can be avoided by building up the dose gradually.
Magnesium is available in oral supplements that include tablets and powders. It can also be absorbed via the skin and some of the other products available are creams and a bath soak salts.
WHICH MAGNESIUM SUPPLEMENTS SHOULD I CONSIDER?
Different forms of magnesium can influence its absorption. The best bioavailability comes from a form of magnesium such as Magnesium aspartate or bisglycinate.
Salts - Inexpensive salts of magnesium and include Magnesium oxide or citrate
Tablets - Blackmore MagMin - use as directed 3-6 tablets with meals or as directed by your doctor.
Magnesium Powders - Ethical Nutrients - use as directed 1 scoop (8.7g) in 200 ml of water twice daily
YOUR NEXT STEP
If you are experiencing any problems with your pregnancy or are concerned about cramping or other pain contact Dr Gailani who will offer advice.
For patients suffering from excessive pain or other anomalies contact your general practitioner or in case of an emergency an ambulance.
Otherwise if not already a patient possibly obtain a referral to see Dr Gailani at http://www.omargailani.com.au/contact/