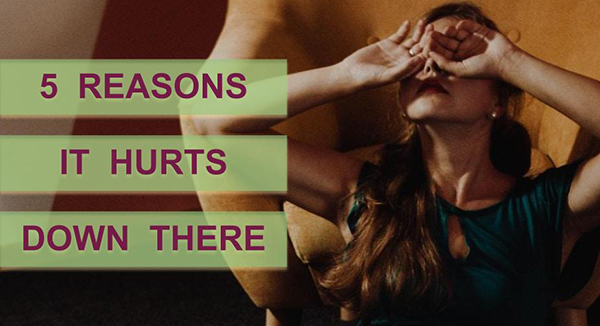 5 REASONS IT HURTS DOWN THERE
Chronic Pelvic Pain affects 7% of Australia women. Here's how to get the help you need.
THE TRUTH ABOUT PELVIC PAIN
If you have Pelvic Pain, getting a proper diagnosis is never as cut-and-dried.
For example, if you have high blood pressure, women do not need to swear off sex and tight jeans to avoid pain.
Nowadays, doctors are equipped to help you figure out what's wrong so you can get relief.
CHRONIC PELVIC PAIN - WHAT DOCTORS KNOW
Experience has taught us that almost always Chronic Pelvic Pain has more than one cause. Often there are three or more conditions all contributing to your discomfort. Just treating one cause often does not help much.
CAUSES OF PELVIC PAIN
Learning how to identify your symptoms for common pelvic pain problems (such as endometriosis, interstitial cystitis, and vulvodynia) is a good start and can help your doctor identify your underlying condition and treatments quicker.
ENDOMETRIOSIS
Can cause severe cramps, often during your menstrual cycle, that radiates to the lower back and leg. Endometriosis pain is caused by migrated cells similar to the uterus lining tissue breaking down each month.
Diagnosed by a Laparoscopy to perform biopsies (removal of tissue samples for examination under a microscope).
Remedies including pharmaceuticals or minimally invasive surgery may be necessary.
INTERSTITIAL CYSTITIS
Cystitis can cause recurring discomfort in the bladder, which may be caused by a breakdown of mucin, cells on the surface of the bladder that protect it from acidity.
Women feel acute burning or stabbing pains with full bladders and during urination and can require several tests to identify your pains cause including Cystoscopy to examine your bladder.
Once the condition is identified Interstitial Cystitis can normally be treated with pharmaceuticals.
PELVIC FLOOR TENSION MYALGIA
Can cause childbirth issues and lead to chronic tension in the pelvic floor muscles that support your pelvic organs.
Women feel heaviness and dull pelvic pain, as well as burning, itching and vaginal or urethral pain. Dr Gailani can diagnose this condition during a Physical Examination by an experienced pelvic pain practitioner.
Effective treatments involve pelvic floor physical therapy to learn how to align your pelvis and do a core strengthening and stretching routine. Injection Therapy is also an effective remedy
PELVIC CONGESTION SYNDROME
When a women's vein's valves become weak and don't close properly, so blood pools, causing painful pressure and a dull, aching, throbbing pain in the pelvis. The intensity of pain often progresses during the day.
Special tests measure the size of the veins and its rate of blood flow and often Pelvic Congestion Syndrome can be treated with Hormone Therapy. Other treatments like Embolization or Hysterectomy are very effective treatments.
VULVODYNIA
Chronic vulvar pain or pain in at the vagina's entry are common symptoms. It is theorized that women with chronic vulvar pain could be caused by a yeast infection or from other conditions such as nerve damage by sport or childbirth.
Patients feel a burning or stinging in the vulva, buttocks or upper thighs when inserting a tampon, sitting down or even wearing tight jeans. Sufferers often have pain during sex.
Your doctor needs to detect your pain's location, but if this proves difficult extensive examinations, including a comprehensive history, and tests may also be required.
Treatments can include drugs for pain management or topical treatments can depend on the cause. Nerve endings removal can help women suffering pain at the entrance to the vagina as a last resort.
WHEN TO SEE A DOCTOR
If you are experiencing any symptoms of Chronic Pelvic Pain above or are concerned about any gyneacological problem that may require further investigation, we would advise that you see your general practitioner and possibly obtain a referral to see Dr Gailani.
Dr Gailani can offer specialised help, advice on a possible diagnosis, further investigations and suitable treatment. Contact his rooms at www.omargailani.com.au
Experience has taught us that almost always Chronic Pelvic Pain has more than one cause, further Chronic Pelvic Pain can involve several body systems, including the
Bladder and colon
Uterus and
Their respective nerves and muscles,
A Pelvic Pain Specialist possesses a broad knowledge and experience required to provide you with an accurate diagnosis and appropriate treatment.
While some gynecologists have practices focusing on the Pelvic Pain syndrome, our Chronic Pelvic Pain Clinic offers an integrated team of specialists that include:
Gynecologist and Urologist,
Physical therapist and Psychologist, and
Specially trained Nurse-Practitioners
If they find that you have endometriosis and a musculoskeletal problem, for instance, all can be treated at the one clinic.