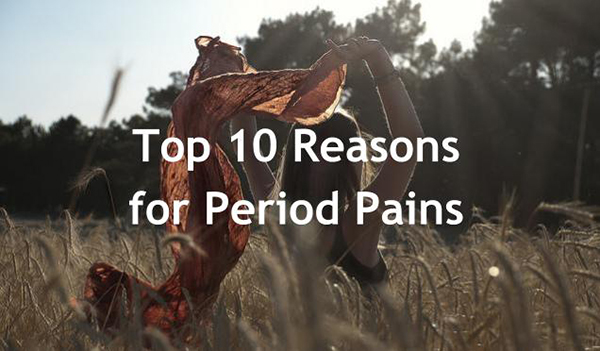 Many women suffer from pelvic pains around the time of menstruation, here's 10 reasons why
Dysmenorrhoea


Dysmenorrhoea is the medical term for crampy pelvic pelvic pain that happens during your period. It can happen in the lead up to, throughout or even after your period.
Uterine Contractions
Your uterus contracts in order to expel the uterine lining which has built up during the cycle. This is a primary cause of pelvic pain during menstruation.

Hormones


Prostaglandin is a hormone produced by the lining of the womb and is responsible for the uterine contractions during menstruation.

Cervical Stenosis


When the cervix opening is extremely small it restricts uterine blood flow, causing a build up of pressure in the uterus, which = period pains and often either very light or prolonged bleeding.

Endometriosis


This is a common culprit for lower abdominal pain which, if not diagnosed early enough, can lead to fertility problems. Endometriosis is the growth of the lining of the womb, outside the womb in the abdominal cavity.

Fibroids


Another common reason for period pains are fibroids. Fibroids are benign growths in the uterus, there is sometimes more than one.

Adenomyosis


Unlike endometriosis, which attaches outside the uterus, here the lining of the womb grows into the uterus muscle walls.

Intrauterine Device (IUD)


An IUD is a copper and plastic form of contraceptive which is inserted into the womb. A newly fitted IUD can sometimes cause painful periods and abdominal discomfort during the first few months.

PID


If you've recently had unprotected sex, sexually transmitted bacteria may be the cause of your abdominal cramps and swelling.

Pregnancy


If you experience lower abdominal cramps or dull aching, like normal period pains, before your period is due you might actually be pregnant.